Inside of Victory
August 12, 2013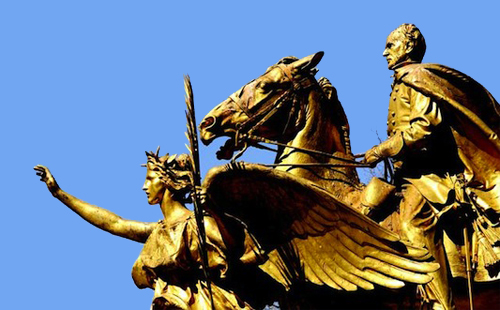 The monument to William Tecumseh Sherman at the southeast entrance to Central Park is currently getting restored. Generally ranked among the nation's finest equestrian statues, it's one I never took to—partly because the mottled patterns of aging gilt and bronze made it hard to see correctly—until I read
this article
by
New Yorker
art critic Peter Schjeldahl. He doesn't just like the statue of Victory leading Sherman into battle: it's his favorite public art work in the city.
What interested me most in the article was Sherman's attitude as a portrait subject. Do
an image search
for the general and you'll see a very intense, very photogenic man. He looks like he never smiled in his life; in some shots he looks almost deranged.
For the equestrian monument, sculptor Augustus Saint-Gaudens had Sherman pose for nearly 40 hours. When he asked the Civil War hero if he wouldn't mind sprucing himself up a tad, Sherman answered, "The General of the Army of the United States will wear his coat any damn way he pleases." Lucky for us, according to Schjeldahl: the bare-knuckle grandeur that resulted was, he wrote, the artist's "signature feat."
The restoration of the monument
was announced
in the
Times
a couple of months ago. Today the same reporter, David Dunlap, came out with a
City Room piece
that includes an exclusive view
inside
the bronze statue.