Dead Horse Bay
August 25, 2013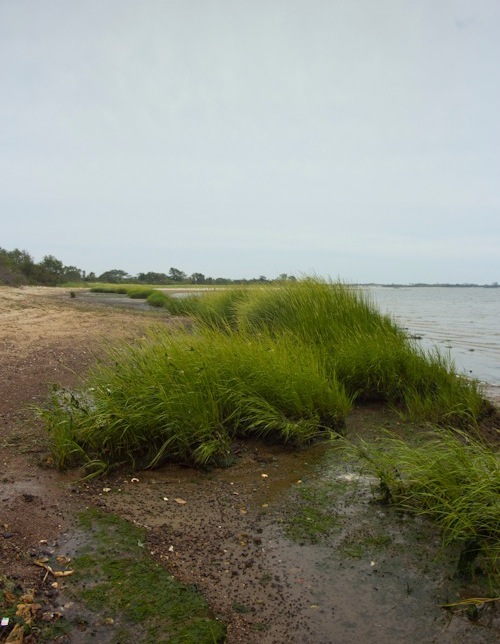 After making the video of
collecting fossils at Far Rockaway
, I started hearing about Dead Horse Bay. It's a
mile-long inlet
under the Marine Park on the southern coast of Brooklyn where, beginning in the 1850s, New York City used to chop and boil its dead horses to make glue. The spot later became a more or less contained landfill, and then an uncontained one, and today is a beautifully gloomy fountainhead of soggy antique junk. You learn here what's durable in life: shoe soles, ceramics, and glass.
Squishing through this bay at low tide is very much like collecting beach fossils, except the fossils were manufactured by us. The approach from the marina offers some real natural beauty (above); after fifty yards the first bottles start to appear.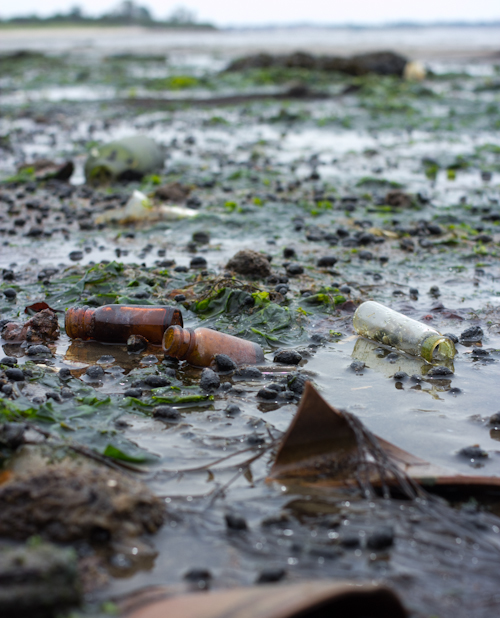 Then bottles and shards of hand-painted plates and century-old horse bones and, for context, the primordial shells of dead horseshoe crabs.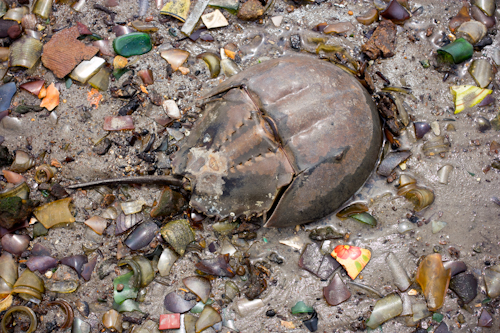 Then glass. More glass than sand. The lighter glass, as well as the ceramics and even clam shells are often dyed an odd orange-leather color, by god-knows-what. In places the water has a violet cast, and reflects petroleum spectrums, and smells like fuel. The bottles you pull out have a sheen of artificial mother of pearl.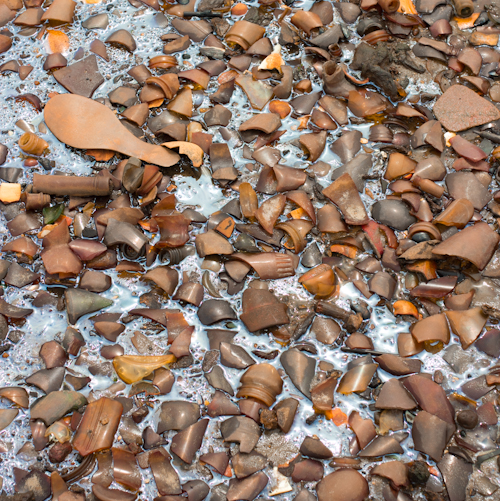 Not all the glass is antique, but people come from all over to pick through it. A woman from Ontario was there for colored shards: she knew the composition of each glass by the color. I learned for the first time about uranium glass, also called
Depression glass
. It's generally a pale chartreuse, and was used in complimentary glassware handed out at shops and movie theaters in the 1930s. It really contains uranium; under a UV lamp it will glow.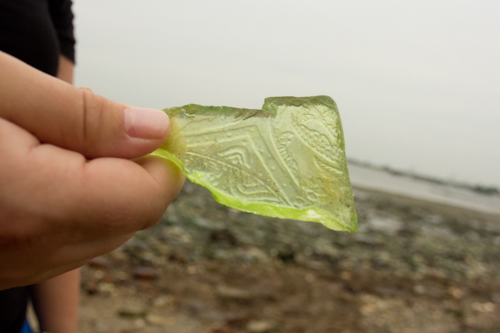 The most common object seems to be this little guy. If you want to start a world-class collection of two-inch-high faceted brown bottles, grab a sack and get yourself out to Dead Horse Bay. Small bottles come in all sizes and colors, and are more likely to be whole. They're also sometimes embedded in a rich sediment of what must be compacted garbage of yore: you have to chip them out like jewels from rock. Click the pic for a gallery of finds.